My New Middle East
Inside the Israeli Conundrum
Mati Milstein
Finalist Best Book on Political Writing 2012
New Mexico/Arizona Book Awards
My New Middle East is a compelling look into the personal experience of living in Israel and the human cost of the ongoing Arab-Israeli conflict.
Milstein's autobiographical essays describe his military experiences and question some of the popular assumptions about Israel. Through his eyes, we are granted a thoughtful inside glimpse, sometimes tinged with Israeli humor, of a nation living in fear and wrestling with its own power. Throughout a decade of sometimes controversial dispatches, we see the author's evolving views of military service, occupation, the Palestinian people, the political process, and life in Israeli civil society.
My New Middle East is a must-read for anyone who wishes to penetrate traditional American myths about Israel in the twenty-first century. Based on his decade-long experience as a Jewish Israeli soldier and journalist, Mati Milstein has earned the credibility to comment on Israeli domestic and military issues. He shares the transition from an alienated American Jew to excited new Israeli citizen, eager to prove his legitimacy by serving in the army, to participant in the occupation of the West Bank and Gaza, and ultimately to one of the country's most reputable critics. Anyone who believes that criticism of Israel is automatically anti-Jewish needs to read this book.
  -- Stanley M. Hordes, Ph.D., Author of To the End of the Earth,
    Former New Mexico State Historian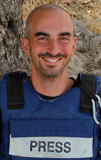 Mati Milstein
Journalist and photographer Mati Milstein moved from the United States to Israel after graduating from college and has served as an infantryman in the Israeli army, as well as being a photojournalist in Israel and the Palestinian territories.
Follow Gaon Books on
Gaon Books
Excellence in Publishing