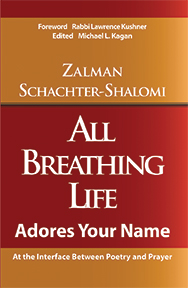 All Breathing Life Adores Your Name
Rabbi Zalman Schachter-Shalomi
Michael L. Kagan, editor

At the Interface Between Poetry and Prayer
Click to hear Reb Zalman saying the prayers contained here
All Breathing Life Adores Your Name is a book of Jewish prayers composed as poems, exploring contemporary spirituality in English. Rabbi Zalman has led Jewish mysticism and the Hasidic experience in new directions for many decades. Prayer is central to spiritual life, and Reb Zalman leads the reader to new understandings and feelings as prayer.
Rabbi Lawrence Kushner has said that Reb Zalman's ideas and stories have "profoundly altered the landscape of American Judaism." And, it is in his tradition of originality and spiritual centeredness that Reb Zalman has opened a door for our souls with these prayer/poems.
It is hard to pray for more than a few sentences in Hebrew if you don't know what you're saying. And it's hard to pray for more than a few sentences in English if the prayers don't touch and teach your heart. Rabbi Zalman Schachter-Shalomi, the master davvener of our age has delivered a vital book, one that enables people to actually davven, not just pray, in English. Many have promised such a book, but this one delivers.
--Rabbi Joseph Telushkin,
  Author of Jewish Literacy and A Code of Jewish Ethics
One is grateful to Reb Zalman for bringing into English these Jewish prayers that have lived a long life in him. Indeed, his introductory notes show how these prayers have provided him solace, guidance and inspiration at key moments to a unique man of prayer, so that we can begin to understand not only what the words say but how they speak in the heart.
--Rodger Kamenetz
 Author of Burnt Books and The Jew in the Lotus

ISBN 978-1-935604-29-7. Paper $18.95. 212 pages

Available from local bookstores
To Buy from Barnes & Noble Click here
Distributed to the book industry by Ingram
For further information or group discounts
Call 505.920.7771
or send e-mail to gaonbooks@gmail.com

Rabbi Zalman Schachter-Shalomi
To hear Rabbi Zalman chanting prayer/poems from this book, click on his photo or HERE.
Michael L. Kagan
is a teacher of Holistic Judaism and author of the Holistic Haggadah (Urim) and God's Prayer (Herder). He is ordained as Maggid (teller of Holy Tales), Moreh (teacher of Torah) and Mashpiah (spiritual intervener).
He has a PhD from Hebrew University.
Gaon Books
Excellence in Publishing